How to use a high-pressure household cleaner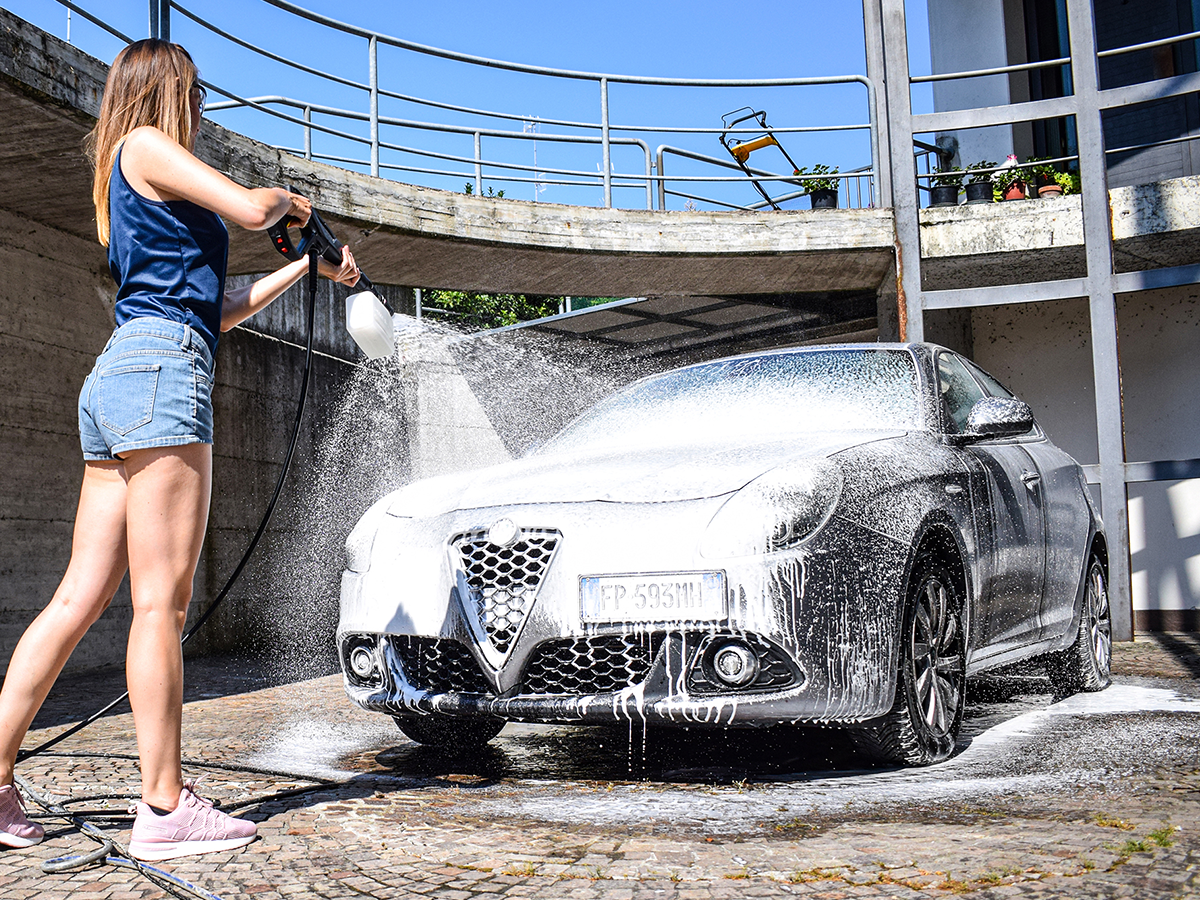 A high-pressure household cleaner is the ideal solution for the deep cleaning of all types of surfaces, with little to no effort and in the least amount of time. With a large range of model-specific compatible
accessories, the high-pressure cleaner can be transformed into the right tool for your individual needs, every time. To get the best results each time, it is helpful to be familiar with which accessory to choose, the functionality of the various indicator lights (where available) and how to use the high-pressure cleaner correctly.
What to do after purchasing a high-pressure cleaner
It is important to become familiar with all the features and functions of a high-pressure cleaner when carrying out your first cleaning job. Understanding each aspect properly will allow you to use the tool in the most effective way, achieving optimum results with minimum effort. Not only that, but using a high-pressure cleaner correctly and, more importantly, purchasing the one best suited to your needs will allow you to fully appreciate the item, resulting in complete satisfaction with your purchase.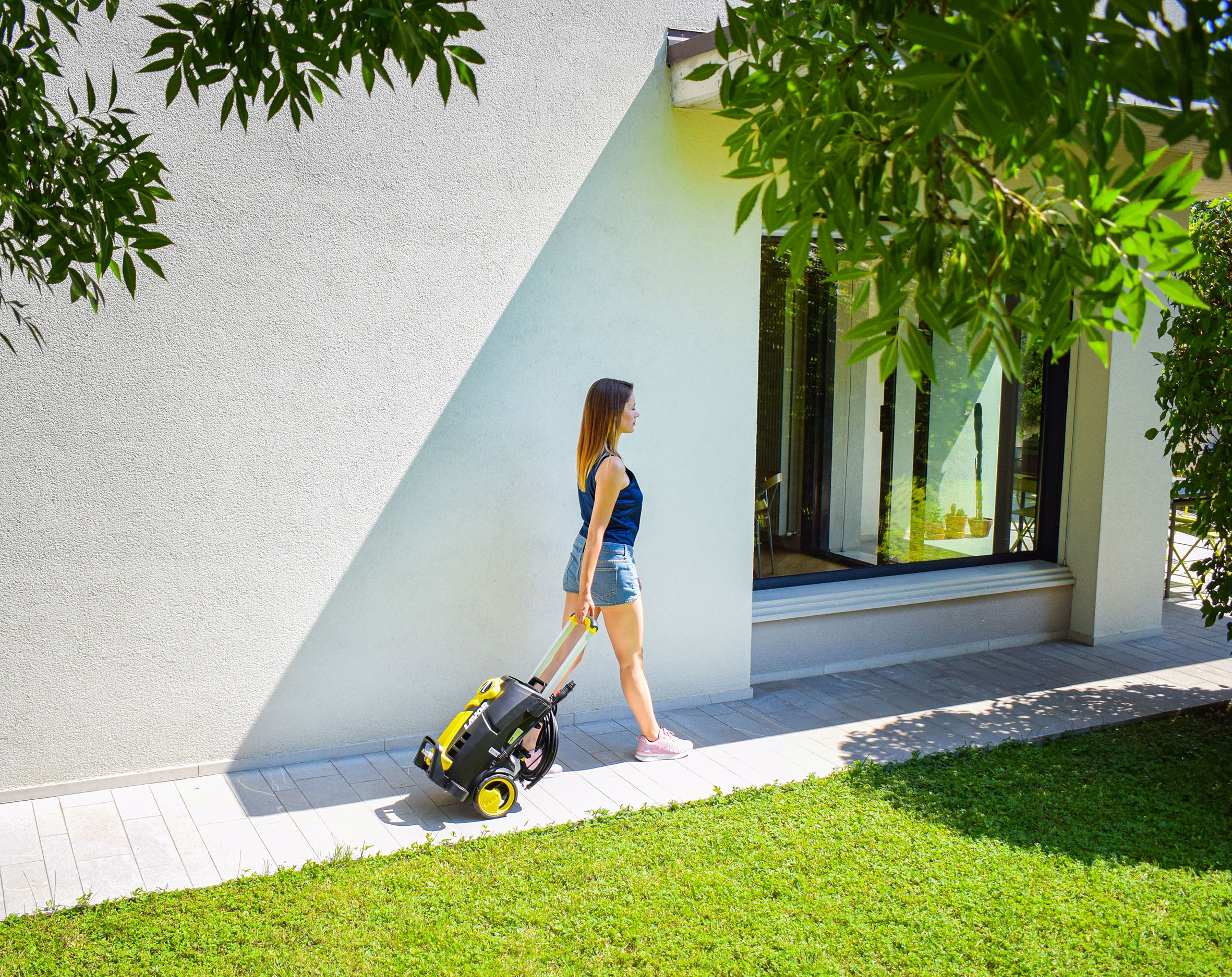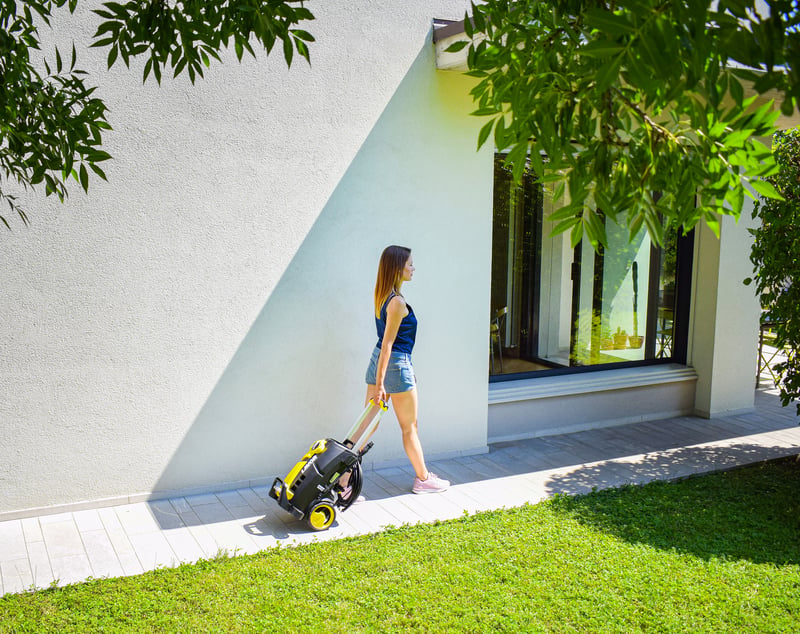 After purchasing the ideal high-pressure cleaner for you, the first steps are:
Fit the accessories available in the package. Depending on the model purchased, parts such as castors, handle for horizontal transportation, telescopic grip, hose reel, lance holder, detergent tank, etc. will be included. Assembling the high-pressure cleaner is quick and easy with Lavor's user-friendly design;

Read and grasp the functionality of all the accessories provided, such as adjustable foam lance, lance, rotating brush, washer, and probes. The accessories are included for some models as opposed to others is related to the type of model purchased and is often a good indicator of which high-pressure cleaner is best suited to your needs;

Carefully read the instruction manual in the box and available as a digital copy on the Lavor website. A quick and simple read gives you the opportunity to discover and get to know the high-pressure cleaner in all its aspects, even those that are more technical, but simple to understand.
Once the first step is complete, you can place the various accessories in the cleaner's side compartments and storage compartment, which are designed to keep the tool neat and tidy at all times and ensure simple, convenient transportation.
Initial cleaning using a high-pressure cleaner: where to start
Cleaning using a high-pressure cleaner is a quick and easy task. By choosing the right accessory for the surface, excellent results can always be achieved in the shortest possible times. In addition, quick coupling/uncoupling allows lances, guns, probes to be interchanged in a matter of seconds. With this all-in-one solution, it is possible to clean a variety of surfaces such as garden furniture, floors, cars, work tools, bicycles and more, without having to change sponges, brooms, dustpans, or brushes.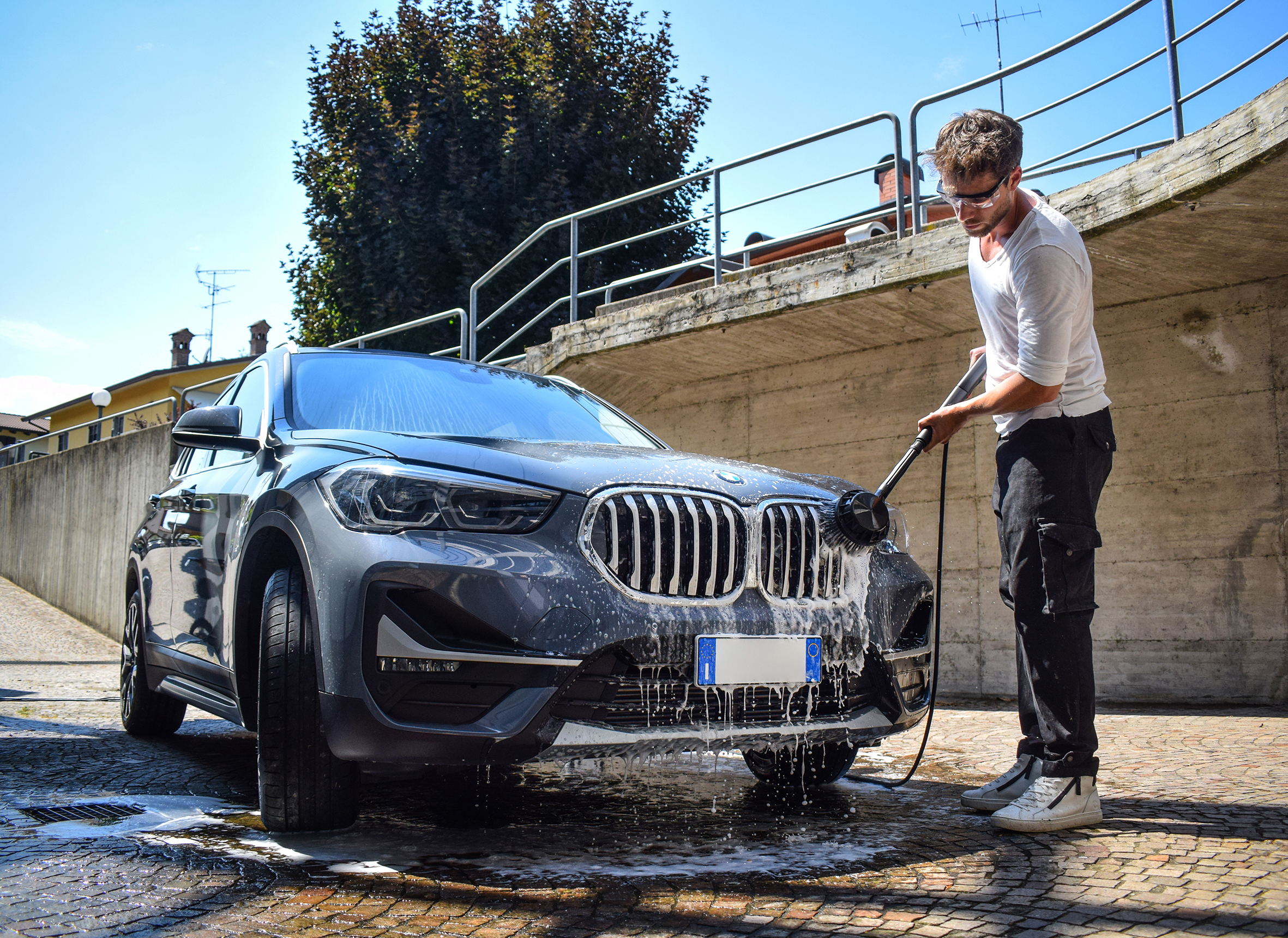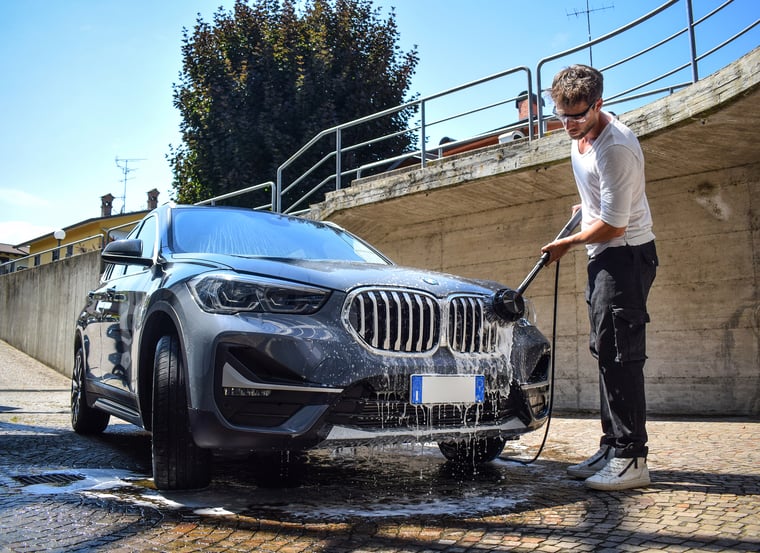 Here's how to thoroughly clean any surface using a high-pressure cleaner in just a few steps:
Select the most suitable accessory, such as the scrubber if you want to clean a driveway or patio floor, the drain cleaner if you need to unclog manholes or gutters, or the lance if you want to clean cars, garden furniture or other surfaces;

After completing an initial clean using the power of the jet, detach the previously used accessory from the pistol in one click and replace it with the adjustable foam lance to treat the area with the most suitable cleaner such as Universal, which is suitable for all surfaces, or Muscal for moss removal;

Apply a final rinse of water to remove the excess foam. The surface will then be clean and shiny;

Move on to cleaning the next surface by choosing the ideal accessory.
If you have doubts regarding the power of the jet or the safety of the area to be cleaned, carry out a test by using the pressure washer on a small, barely visible area. Start with the jet at a distance from the area to be cleaned and gradually move closer; the pressure will increase incrementally, preventing damage to surfaces.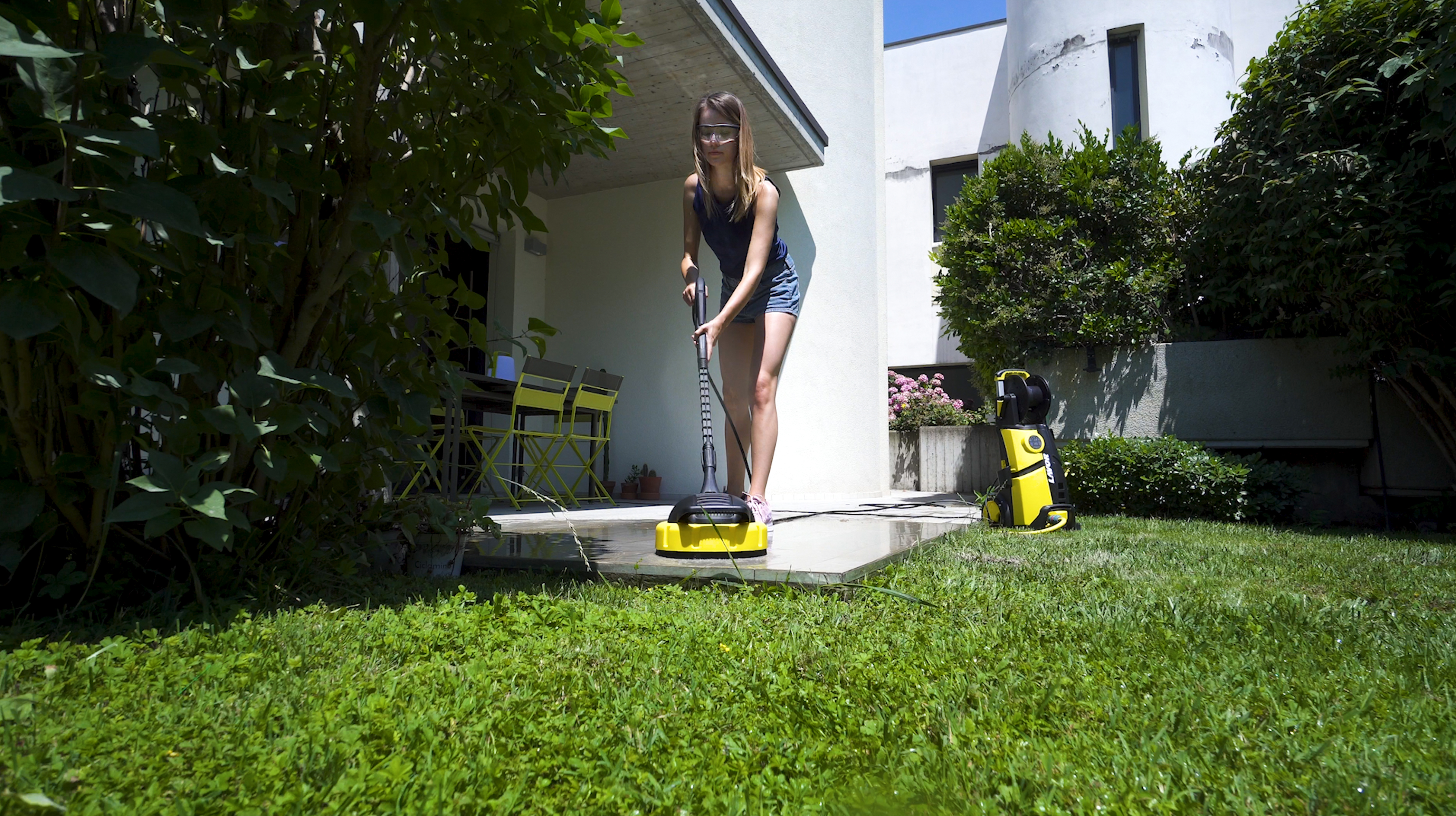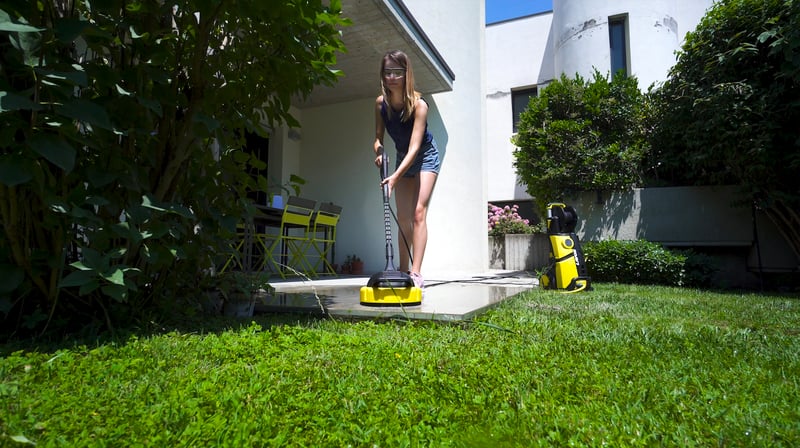 With the aid of this multifunctional item, you will be able to clean many more areas in much less time and with hardly any effort at all. Furthermore, the cleaning power of high-pressure water means you can save much more water than with traditional low-pressure cleaning, thereby helping to protect the environment.
WPS and Digital Control System
In addition to design, Lavor technology also provides support and simplifies cleaning. number of high-pressure household cleaners are equipped with an innovative system to monitor operating parameters and further simplify operating options by setting the ideal program for each type of surface and each type of dirt.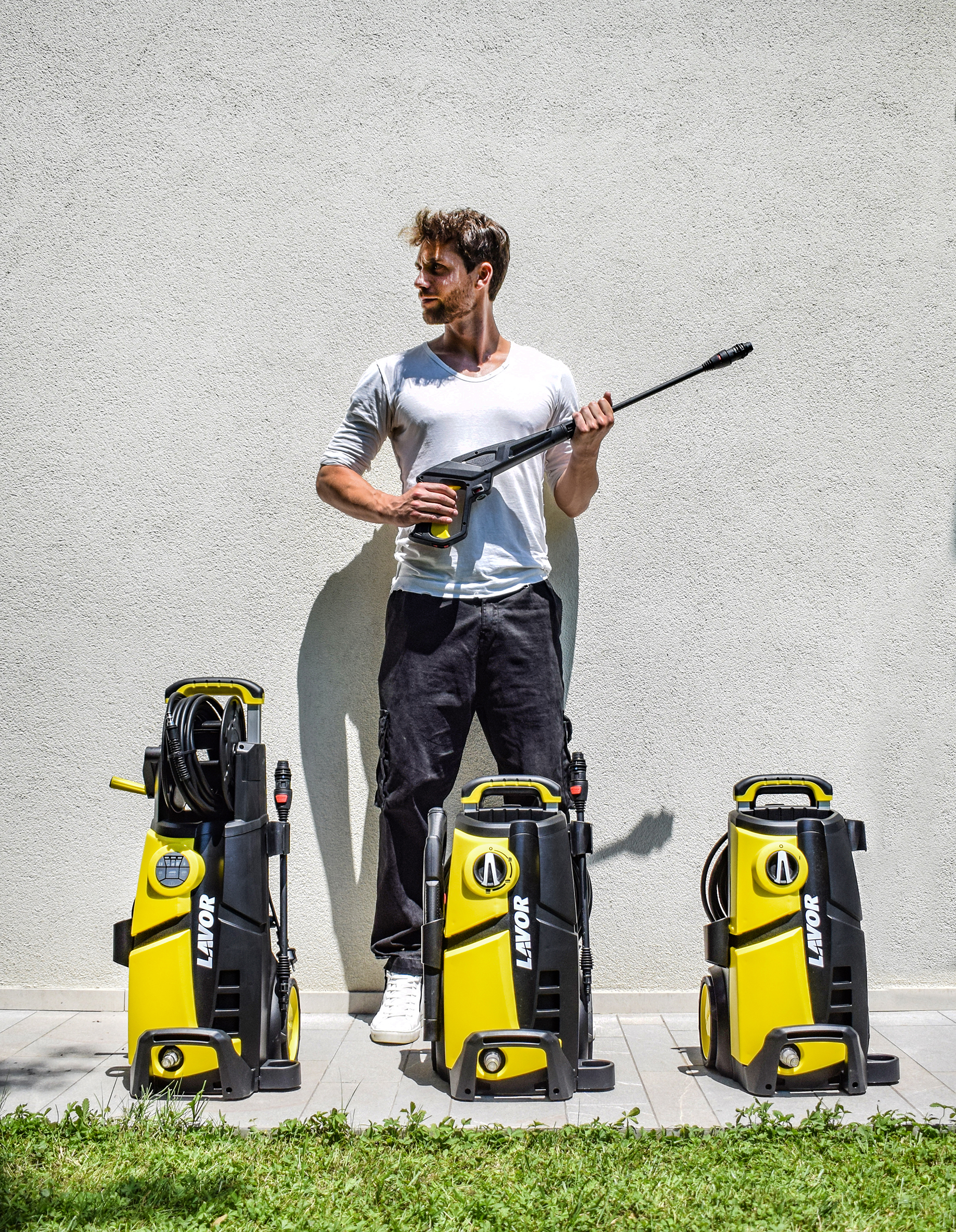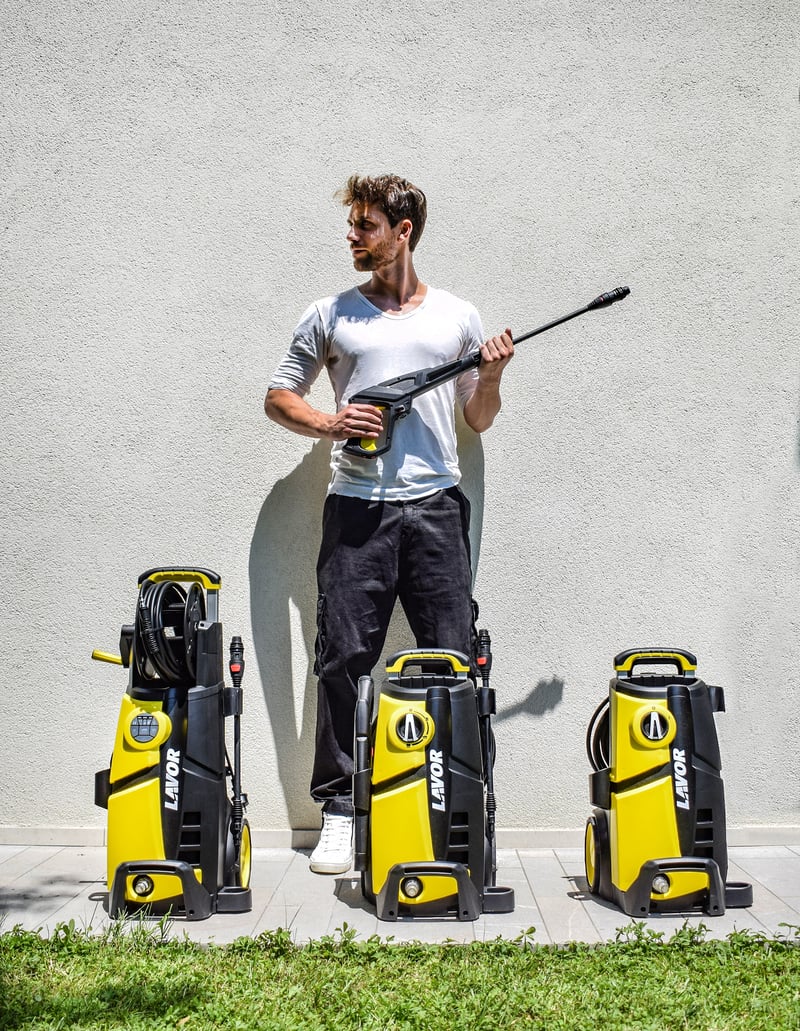 The following can be found in certain models of Lavor high-pressure cleaners:
WPS, Lavor's patented Washing Program System includes three washing programs to choose from. SOFT is the ideal mode for the more delicate surfaces and less stubborn dirt, such as furniture and wood; MEDIUM is suitable for cleaning cars or bicycles, plastered walls and plastic surfaces; HARD is the best solution for more resistant surfaces such as stone and concrete or for agricultural and working tools and stubborn dirt. By setting the most suitable cleaning system, the right quantity of water and the right pressure can be used to prevent wastage of both water and electricity and damage to surfaces. WPS is available on a number of models, such as LVR PLUS 160 WPS;

Digital Control System, which, in addition to the three SOFT, MEDIUM and HARD cleaning programs, includes the option of having all the operating indicator lights of the pressure washer under control at all times, allowing you to monitor potential overheating, micro leakage and any required maintenance. It also features an automatic switch-off function after 15 minutes of inactivity. The Digital Control System is available on a number of models, such as LVR 5 PLUS 150 Digit.

Whatever your cleaning needs, a high-pressure household cleaner can make your daily, recurring and seasonal cleaning easier, faster and more sustainable. Choose the ideal model for you and keep outdoor areas clean with the minimum of effort. From today, cleaning the outside of your home is no longer an issue thanks to Lavor high-pressure cleaners!